Can you imagine serving in your church, living morally and doing or saying all the right things and then finding out that you are living a lie? We can serve with our gifts, we can teach Sunday school and even host small groups in our homes, and yet still become the false converts Jesus spoke of.
It happens when those discipling you don't teach you about sin, God's wrath, repentance, Christ crucified as an atonement for what we deserve. Sadly in our post-modern world, that's exactly what many people have experienced in a growing number of seeker-purpose-business driven models where words like "sin" and "repent" are deemed too harsh for attendees and visitors to handle.  If that sounds like your story, then you might be able to identify with our gusts today.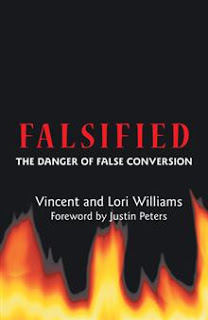 Joining us in studio are Vince Williams and his wife Lori, a young couple who had spent many years in their Oklahoma megachurch, serving and leading with their gifts. One day their eyes were opened to the startling fact that they were false converts.
How could that be? Could it happen to any of us?
Vincent and Lori chronicled their amazing journey in the book, Falsified: The Danger of False Conversion. Their website, Falsified Ministries, is full of resources and articles to help you learn more.
Related articles
Podcast: Play in new window | Download