[/et_pb_column]
In 1995, Linda Harvey founded Mission:America, a non-profit organization whose objective is to equip Christians with current, accurate information about cultural issues such as feminism, homosexuality, education, and New Age influences.
Linda is an author, speaker and radio host who has reported on sexual identity politics for twenty years. Raised in a liberal home, Linda became a Christian and changed her mind and heart about some of the most volatile issues of our time. A former teacher who became an advertising executive, then head of a Christian pro-family group, Linda has been interviewed by media outlets from coast to coast. Since 2009, she has been the host of the Mission America radio show broadcast throughout Ohio.
The unbridled, uncivil passion of the radical left to push their worldview and indoctrinate our children is starting to reap devastating results. Recent studies show a rapid increase in destructive behaviors among teens who are embracing the LGBTQ propaganda, and some of the decisions they are making will have lifelong negative effects. Ideas have consequences.
Linda Harvey of Mission America joins us to discuss these dangerous trends and how we can combat them with truth, love, facts, and respectful disagreement.
We also look at the story of President Trump's Press Secretary, Sarah Sanders, being kicked out of a Virginia restaurant she hoped to dine in because her mere presence was causing LGBTQ restaurant employees to trigger.  We're not making this up! Apparently, it may be the new battle front of the Left.
ARTICLES
CDC Survey: More American Youth Identify as Homosexuals
America is doing a terrific job of pushing homosexuality in schools, and as a result, more of our kids are engaging in this behavior and adopting the identity.

A major Centers for Disease Control (CDC) study provides the gruesome stats.

This disastrous news should be major media headlines. A few progressives are happy, I'm sure, along with radical homosexual groups like GLSEN as well as the corrupt teachers' unions, the NEA and others.

But for most of us, the CDC Youth Risk Behavior Survey (YRBS) paints a grim picture with dire consequences for the long-term well-being of our nation's youth.

In 2017, almost 15% (14.6%) of teens labeled themselves "gay, lesbian, bisexual or unsure." In 2015, that figure was 11.2%.

And heterosexual students were much less likely (39.1%) to have had sexual intercourse (Table 133). Homosexual, bisexual and questioning students answered yes much more often– 76.8%.

Schools and parents should recall these results when considering pro-homosexual lessons or "comprehensive sex education" (CSE) curricula that normalize anal, oral and vaginal sex for adolescents.

The evidence shows many teens are experimenting with these behaviors. Unfortunately, the dire outcomes—teen pregnancy and sexually transmitted disease—are not the topics of questions in the YRBS.
Lost in the Mail: God's Invitation to 'Revoice Conference'
The Lord's calendar is pretty full most of the time, but still He's able to hear millions of prayers, lengthy petitions, meet those who are in despair, and hear joyous songs of praise, every hour of every day. So He's probably puzzled why He has not received an invitation to the Revoice Conference.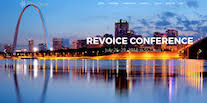 Revoice claims to be a "welcoming" conference for "celibate" people in the "LGBT community."
But shouldn't we 'identify' with Jesus Christ first and foremost, rather than identify with a sin or group?
BREAKING: Supreme Court rules for crisis pregnancy centers in free speech dispute